Volume Wave
Automated pallet storage Volume WAVE
Volume WAVE is the world's first ultra-compact, fully automated pallet shuttle storage with single-space access. The scalable and patented system with heights between four and 40 meters impresses with an extremely high storage density and is an alternative to stacker crane warehouses as well as wide and narrow aisle warehouses. The space requirement is between 40 and 45 percent less than that of conventional solutions. 2021 Volume WAVE received the internationally renowned IFOY Award. Our automated pallet warehouse can be used as a picking warehouse, replenishment warehouse or sequence buffer.
01
Ultra-compact design
Volume WAVE has no aisles between the rows of racks and therefore a up to 45 % better space utilization compared to a conventional automated pallet storage with stacker cranes. Our unique solution provides space utilization ratio comparable with channel warehouses.
02
Access to any storage location at any time
Though there are no intermediate aisles, our automated pallet storage Volume WAVE, unlike channel warehouses, provides immediate access to any item at any time. This is realized by moving carts on which the pallets are placed. To provide access to a specific storage cell, cars with pallets that block access for the shuttle are pushed or pulled aside.
03
Scalability
All components of Volume WAVE are scalable. The warehouse size can be expanded at any time to match the development and growth of your business. Throughput can be increased step by step by integrating additional elevators or shuttles. This allows for maximum flexibility.
04
High throughput
In the basic version with one shuttle per level a throughput of more than 100 pallets per hour is achieved.
05
Energy efficiency
All drives, lifts, shuttles and docking stations have an energy recuperation system to maximize the energy efficiency of the automated pallet warehouse.
06
Service friendly
Though there are no gangways between the rows, all cells are accessible for the service staff to perform scheduled maintenance works.
07
High reliability
Intelligent anti-collision sensors of shuttles and docking stations monitor the environment while fulfilling orders to avoid accidents. Thousands of test hours in different conditions have proven reliability.
08
Modularity
Volume WAVE can be configured and adapted in size and shape analogous to your existing buildings. Once installed, the pallet shuttle warehouse can be individually extended in width, length and height at any time. For example, L- and U-shapes of facilities can be realized.
TECHNICAL DATA AND PERFORMANCE INDICATORS
Characteristics of typical system:
Throughput up to 380 pallets/h
Overall heights 4 to max. 40 m
Weight per storage location max. 1,200 kg
Load height 500 to 2,500 mm
Vertical speed 4 m/s
Horizontal speed 2 m/s
The core components of Volume WAVE are the Smart Rack, Rover (shuttles) and Ferry (transfer car).
The process – this is how it works: In our automated pallet storage Volume WAVE, the pallets are placed on carts that can be moved individually using the shifting mechanism to create free channels. In this way, all load carriers are individually accessible. The rovers travel fully autonomously on rails and pick up the pallets from above using a specially developed gripper. They are then transported to the beginning of the Smart Rack channel and taken over by the Ferry. This transports the pallets to one of the lifts and moves the shuttles from one channel to the other. The throughput is scalable up to 300 double cycles/h.
Weight per storage location: up to 1200 kg
Load height: up to 2500 mm
Euro pallets (800x1200 mm)
Industrial pallets (1000x1200 mm)
Driving speed: 2 m/s
Acceleration 1,5 m/s²
Super capacitors, 100 m range with 1200 kg load
Charging time 30 seconds
Anti-collision sensors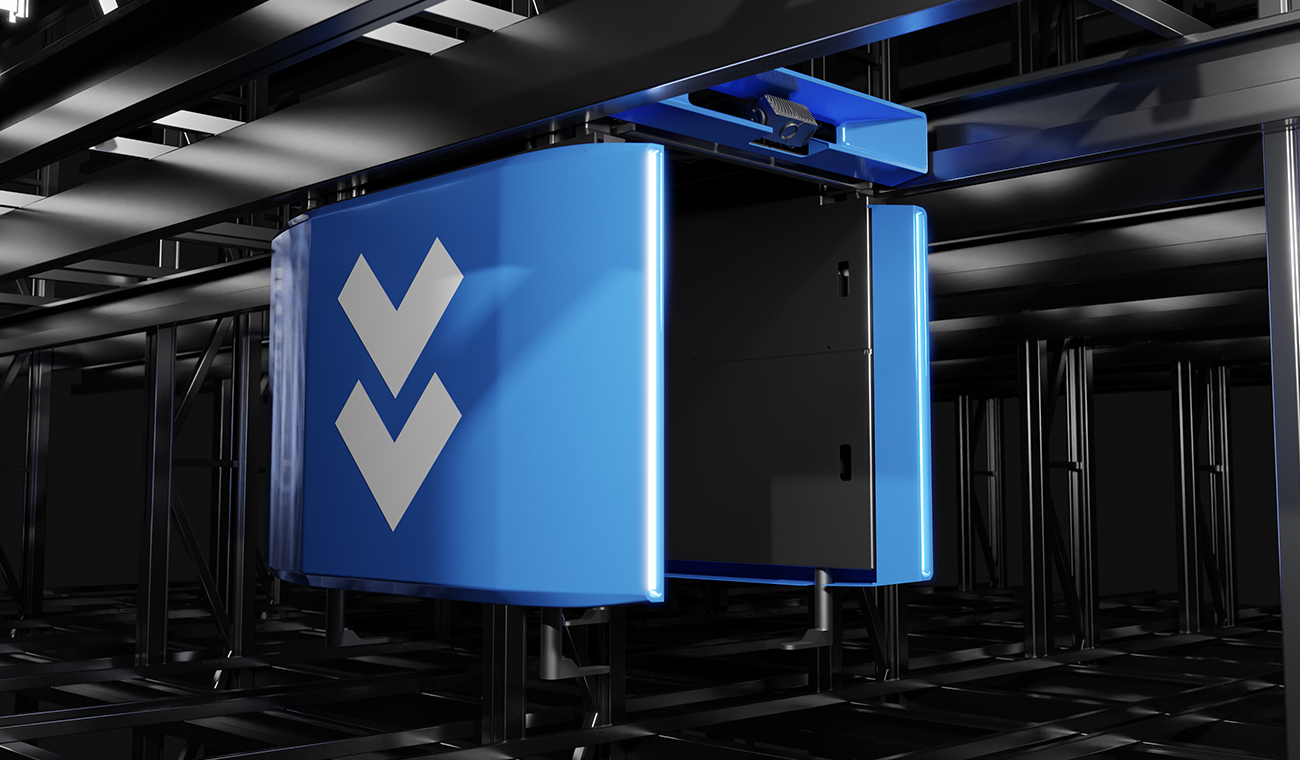 Driving speed: 2 m/s
Acceleration 1,5 m/s²
Anti-collision sensors